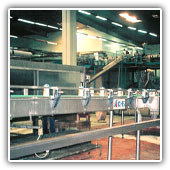 At DICO quality comes first and we stand for this by demanding the highest standard from ourselves and our suppliers. DICO means quality and quality means success, which means that we have to mobilize all of the company's resources in order to attain this.

However, attainment of this objective leaves us with a hard but pleasant task of monitering production at every step to deliver our commitment to quality. At DICO, quality control starts with the selection of the finest and best concentrates and other components for our products, as well as the raw packaging materials from the leading suppliers in the market ,and it all ends with the finished products being delivered to the final consumer-the ultimate customer.

At every stage our dedicated Q.C inspectors with the help of well equipped quality control laboratories monitor the process and carry out stringent tests to ensure that the finished products are of the highest quality.

In fact, it is the company's policy that leaves no stone unturned to produce and supply quality products to the best satisfaction of the consumers.





Derhim Industrial Company Ltd. exports it's products in many Arabic and African countries.

Phone : 009673311073
009673311074
Fax : 009673311500
E-mail : info@dico-ye.com

Derhim Industrial Company Ltd.

P.O.Box : 3667
Yemen - Hoddeida
Phone : 009673311072
009673311073
Fax : 009673311500
E-mail : info@dico-ye.com