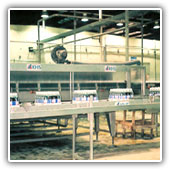 At the core of every operation being undertaken at DICO lies the general belief that great quality and superior service will lead to the enthusiasm of the customers. With good quality service being extended to all who come into contact with our company or products locally or abroad, it has given us a competitive edge over others in such competitive and saturated business like the beverage business.

Regular market surveys that have led to sustained customerís feedback on service and products offered into the market by DICO, along with our prompt response and solution-finding to any problem being encountered by our customers in relation to our service or products, has helped and created the much-needed confidence and trust of customers towards our company.

We believe that the above has given us a remarkable share in the soft drinks market in the region and elsewhere, and if we are to continue the same way, we will surely have a bright future ahead of us.




Derhim Industrial Company Ltd. exports it's products in many Arabic and African countries.

Phone : 009673311073
009673311074
Fax : 009673311500
E-mail : info@dico-ye.com

Derhim Industrial Company Ltd.

P.O.Box : 3667
Yemen - Hoddeida
Phone : 009673311072
009673311073
Fax : 009673311500
E-mail : info@dico-ye.com